#IStopSuperbugs
April 9-15, 2018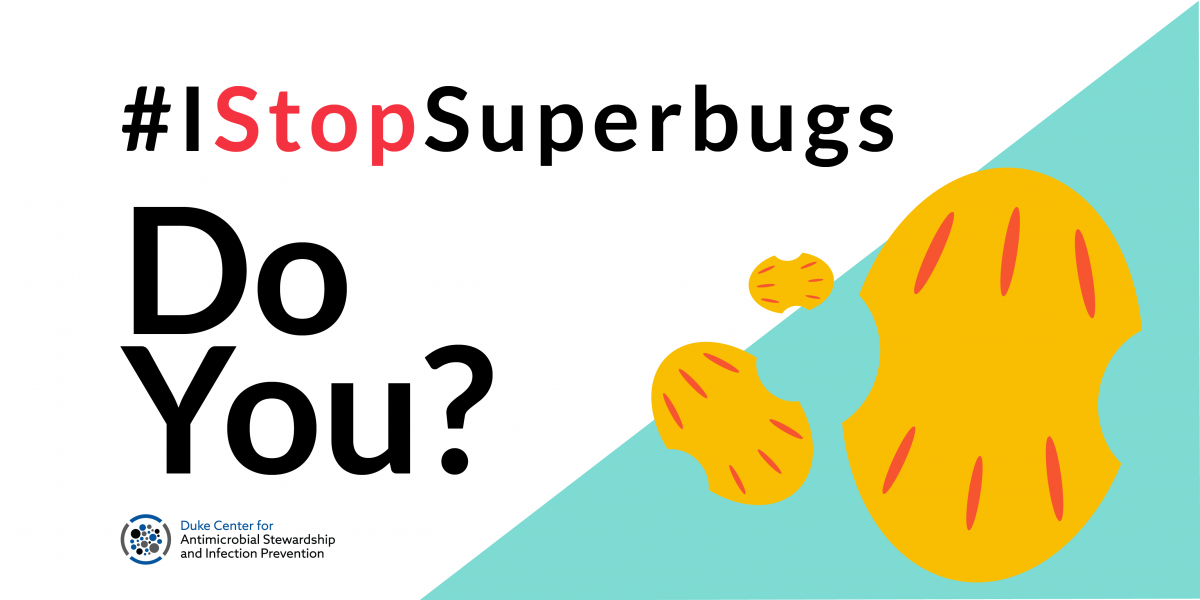 Superbugs, also known as drug-resistant pathogens, are a major threat to the health of people around the world. Many of these superbugs are bacteria that have developed antibiotic resistance. This means that the antibiotics we use to treat bacterial infections are not working as well, making the infections tougher to treat.
Here at the Duke Center for Antimicrobial Stewardship and Infection Prevention, we work hard to prevent infections and slow the spread of superbugs. We conduct research, many times with collaborators from other major universities in the United States. We also work to improve patient care both here at Duke and in surrounding area hospitals.
But we can't stop superbugs alone. We need people around the globe to be working together to stop these germs. Even the simplest tasks, like washing your hands regularly and taking antibiotics only when necessary can have a major, positive impact.
We are proud to be hosting the #IStopSuperbugs campaign. From April 9-15, 2018, we will be posting information about how you can stop superbugs and sharing quotes from our peers about how they work to keep us all safe.
We need your help! Share your stories about how you stop superbugs using the #IStopSuperbugs hashtag on Twitter and Facebook. We have also provided some resources below that you can use to help promote the message that we all have a role to play in stopping superbugs.
Results of our Campaign
#IStopSuperbugs 2018 Final Report
Who to Follow
Twitter
Facebook
Duke Center for Antimicrobial Stewardship and Infection Prevention (

@DCASIP

)
Images for Social Media
Suggested Social Media Posts
#IStopSuperbugs by washing my hands before every meal https://www.cdc.gov/handwashing/when-how-handwashing.html 
#IStopSuperbugs by taking antibiotics only when necessary https://www.cdc.gov/drugresistance/protecting_yourself_family.html
Antibiotics are only effective against bacteria, not against viruses like the cold or flu #IStopSuperbugs https://www.cdc.gov/drugresistance/protecting_yourself_family.html
One of the best ways to prevent infections is to wash your hands! #IStopSuperbugs https://www.cdc.gov/handwashing/when-how-handwashing.html
Let's make sure antibiotics continue to work by only using them when necessary #IStopSuperbugs https://dcasip.medicine.duke.edu/istopsuperbugs
Superbugs are germs that have become resistant to the drugs we use to treat them. #IStopSuperbugs https://www.cdc.gov/drugresistance/about.html
Links to CDC Content on Antimicrobial Resistance and Infection Control
Related Content from the Duke Center for Antimicrobial Stewardship and Infection Prevention
Meet a Duke University Hospital pharmacist who works to stop superbugs
Meet an Infection Preventionist who stops germs from spreading in hospitals
Learn how the Duke Center for Antimicrobial Stewardship and Infection Prevention works to stop superbugs
Additional Materials
#IStopSuperbugs Desktop Screensaver