Michael J. Smith, MD, MSCE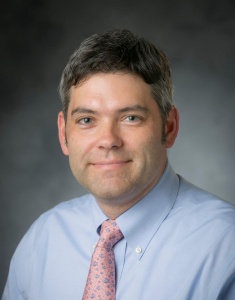 Dr. Michael Smith is a member of the Duke Antimicrobial Stewardship and Evaluation Team (Duke ASET) who specializes in pediatric antimicrobial stewardship. Since joining the Center last year, Dr. Smith has quickly designed and implemented a robust pediatric stewardship program at Duke University Hospital.
Tell us a little about yourself. What drew you to the field of antimicrobial resistance, particularly in kids?
As long as I remember wanting to be a doctor, I wanted to be a pediatrician. I was lucky to have a great pediatrician growing up and always thought I'd go into general pediatrics. However, once I started pediatric residency I realized that I didn't know enough about prescribing antibiotics – specifically whether a child needed an antibiotic or not, and if they did which one and for how long?  So I did an elective in pediatric infectious diseases and absolutely loved it. To this day I try to help my colleagues and trainees answer those same questions I had as a resident – and how to explain their antibiotic choices to parents.
Why is there a need for antimicrobial stewardship strategies specific to children? What kinds of challenges are unique to a younger demographic in this field?
The simple answer is that children are not little adults! This is a huge issue for dosing – a key aspect of antimicrobial stewardship in children. Pharmacokinetics of antibiotics – most pronounced in premature infants – are completely different than in adults, so expertise in pediatric pharmacy is a must.
Also some conditions are just much more common in children.  For example, acute otitis media (AOM) – which rarely occurs in adults - is probably the most common infection tied to pediatric antibiotic prescriptions. Antibiotics may not be necessary at all – many cases of AOM are viral, but when antibiotics are needed narrow-spectrum antibiotics like amoxicillin, which targets Streptococcus pneumoniae should suffice. We see a ton of broader-spectrum antibiotic use (like cefdinir or azithromycin) which usually is not warranted.
Perhaps the bigger challenge is this notion that pediatric healthcare providers are taking care of other people's children – and our default is to err on the side of caution. A hot topic in pediatric stewardship research focuses on a better understanding all of the negative consequences of antibiotic use in children, and how to communicate those risks to clinicians and parents. Sometimes not prescribing an antibiotic is the safer choice – but it's hard to convince people.
You joined the Center in 2017. What brought you to Duke?
I worked at the University of Louisville for the past 10 years and developed a robust inpatient antimicrobial stewardship program. Although DCASIP has been recognized as an Antibiotic Stewardship Center of Excellence by the Infectious Diseases Society of America there was not a formal pediatric program in place until last year. The faculty at the Center are world renowned leaders in stewardship and infection control and the research opportunities at Duke - through things like DASON and the CDC Epicenters are truly exciting.
Since starting here at Duke in the fall of 2017, I have had the opportunity to develop a dedicated pediatric program with all of the clinical infrastructure of the existing stewardship efforts at Duke University Hospital.
What can families do to protect themselves from superbugs?
Probably the most important thing is to wash your hands!  Apart from that I think it's important for parents to be aware of the risks of unnecessary antibiotic use. Don't be afraid to ask your child's doctor if antibiotics are really needed – sometimes doctors prescribe antibiotics just because they think parents expect them.
How do you relax after a long week at Duke University Hospital?
I am new to the area and love to explore Durham and the Triangle, especially by bike on some of the great local trails!Not to mention all of the awesome restaurants ….