Travis Jones, PharmD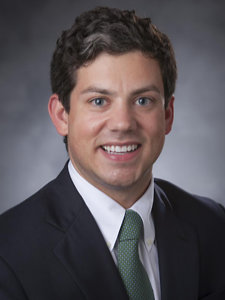 Meet Travis Jones, a Pharmacist liaison with the Duke Antimicrobial Stewardship Outreach Network. He spoke with us about his journey to becoming an infectious diseases pharmacist, his tips for an engaging presentation, and his favorite beach hangouts in North Carolina!
1. Tell us how you became interested in infectious diseases. How did you come to work here at Duke?
Throughout pharmacy school I was never really interested in working in a hospital, and I actually thought that I wanted to own my own independent community pharmacy. However, during my first clinical rotation I was fortunate to have the opportunity to work in the hospital and help care for patients on dialysis, which was really challenging. During this rotation I learned that I could have a major impact as a pharmacist by monitoring and following patients receiving antibiotics. Over the following months, my interest in infectious diseases (ID) continued to grow, and I was very lucky to complete rotations in Internal Medicine with an ID-trained pharmacist.
During PGY1 residency training, I decided that I wanted to pursue a career in ID, and I also wanted to have the opportunity to teach. Logically, the PGY2 ID/IM/Academics residency at Duke was the right fit for me. Following my PGY2 residency, a very unique opportunity to complete a fellowship focused on antimicrobial stewardship in community hospitals with DASON arose, and I knew that I could learn so much from the DASON group. I completed the fellowship here and was very fortunate to be able to stay on and continue working with this group after training. 
2. Antimicrobial stewardship is a team effort. When you work with community hospitals, what do you do to engage various healthcare team members in new initiatives? 
There are many strategies to engage healthcare team members, but I'll highlight a few that have worked particularly well in the community hospitals that I've worked with. The first is to be excited about what you do, which (I believe) results in getting people excited about what they do. I believe that it's also very important to discuss the "big picture" in initial conversations regarding new initiatives, rather than getting bogged down in details. Once everyone gets an idea of the "big picture" and how an initiative will have a positive impact on patient care, the team can work together on the details. 
Another strategy is to acknowledge the contribution of every single team member. For example, the stewardship team can't make empiric treatment guidelines without data from the local microbiology laboratory, and the guidelines can't be implemented without the help of IT – the list goes on. Ultimately, acknowledging each team member's contribution is critical for continued engagement. 
3. You do quite a bit of teaching about antimicrobial stewardship. Do you have some tips for creating exciting yet informative presentations?
There are several tips to creating an excited yet informative presentation. 
Create a "catchy" title – this helps get a good audience in the room. A good example of this is one of our newsletter titles, "Is Five the New Seven?", which reviews treatment durations.
Be passionate about the topic – audiences are simply more engaged in exciting presentations. 
Incorporate a story, an interesting case, or a funny joke – audiences love a good laugh.
Include local data, if possible. When presenting to clinicians, I've found they respond very well to local data, especially if they've never seen it before. 
4. Summer is here! Since you grew up on the NC coast, could you tell us some of your favorite North Carolina beaches?
First, let me say that I do not discriminate when it comes to beaches – I love all beaches! There are so many great beaches along NC's coast, but my favorite is Wrightsville Beach. I grew up just a few minutes from Wrightsville, and it's a beautiful place to visit! Wrightsville offers so many great restaurants, a scenic walking/running trail that locals refer to as "the loop", and a great night life! It's also just a few minutes from downtown Wilmington, but keep in mind the drawbridge goes up on the hour every hour during summertime! The best advice I have for visiting Wrightsville is to make sure to get there early and bring quarters for parking!